Get a feel for this fantastic machine
The next best thing to seeing it in person. This 360-viewer shows you every stunning angle of the BERNINA 590 E.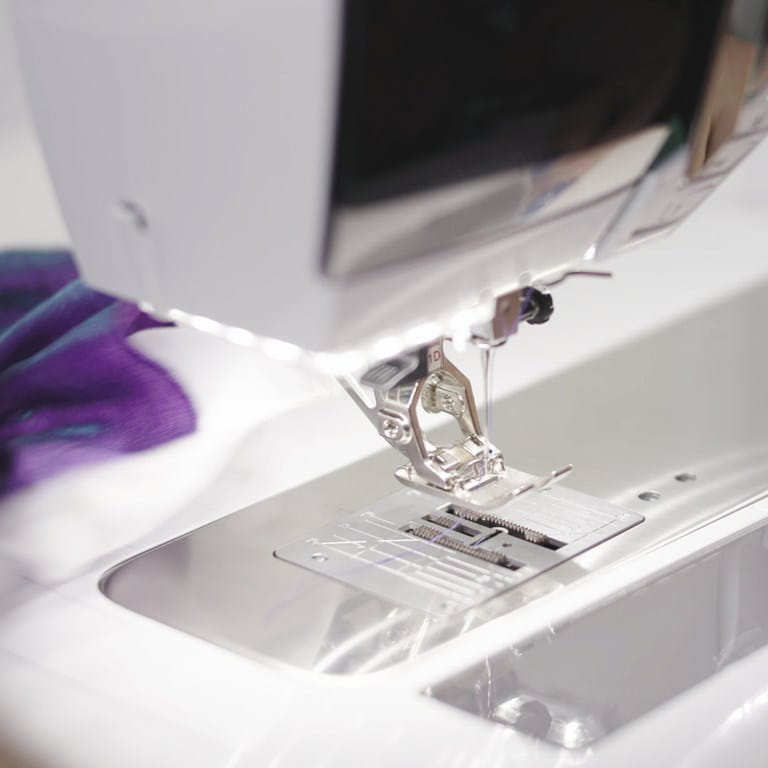 Automatic features save time
No manual thread cutting
Press a button to lift the foot
Press a button to cut your thread
The automatic thread cutter operates three steps in one: cuts the thread, lifts the needle, and raises the presser foot.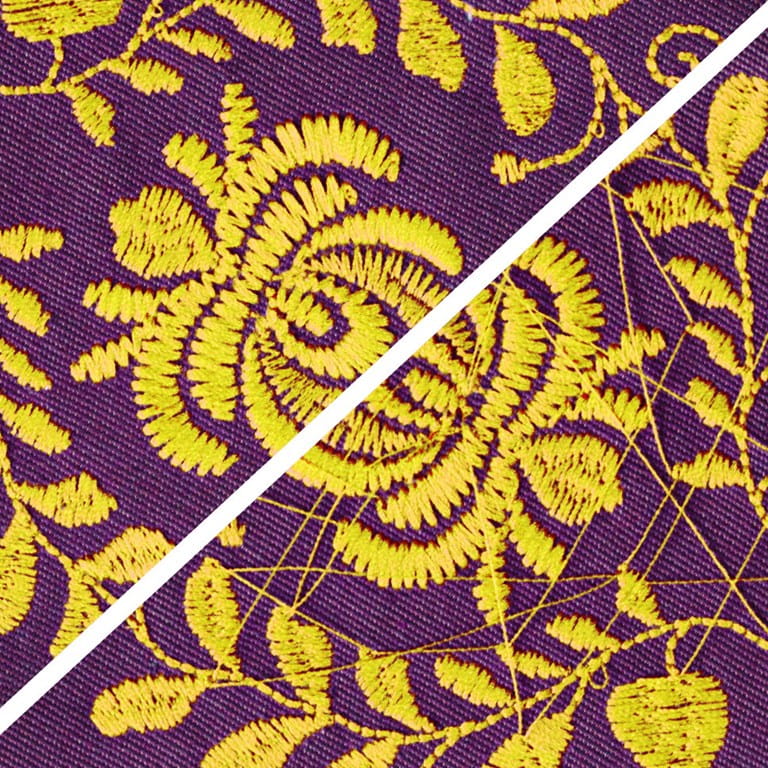 Perfection is the new standard
No manual trimming on the top side
Manage thread cuts easily
Invisible Secure for perfect results
Thanks to the Thread Away Mode and Invisible & Smart Secure, clean embroidery results on the top are yours with the B 590 E.
Easy design positioning
Position your design easily and exactly
No need to use the template anymore
Perfect results in short times
Use Pinpoint Placement to position your design precisely: select two points and match them with the markings on the hooped fabric.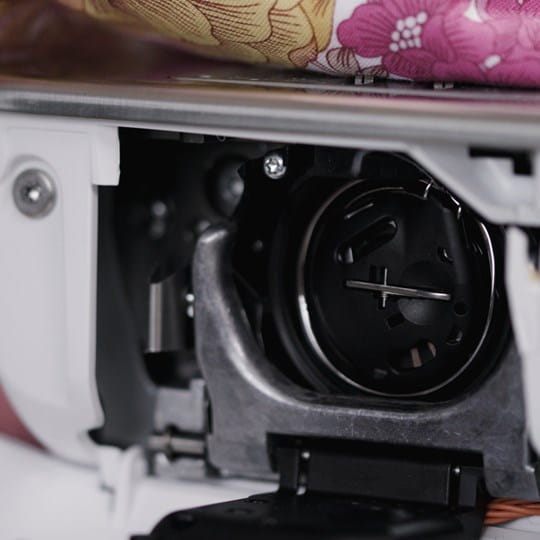 Sew quieter, faster, longer, better
Achieve perfect stitches fast & quietly
Sew longer with the Jumbo bobbin
Frontload the bobbin with new thread
The BERNINA Hook keeps the stitches consistent and precise with a maximum speed of 1,000 stitches per minute.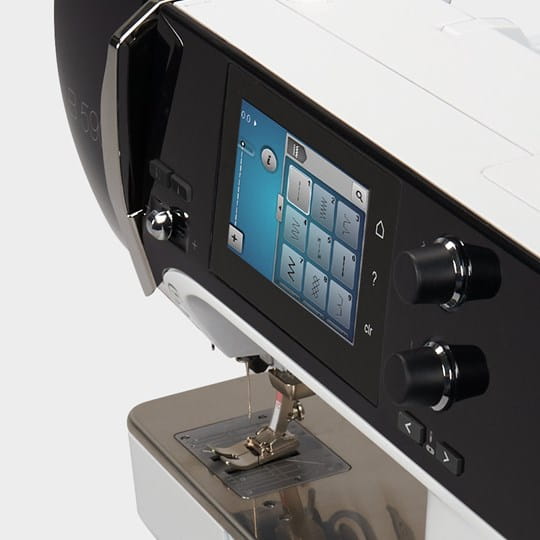 Enjoy full comfort & perfect results
Large easy-to-navigate touch screen
One click to switch to embroidery mode
On-screen support when needed
The Sewing and Embroidery Consultants offer direct on-screen support and answer your questions whenever you need them.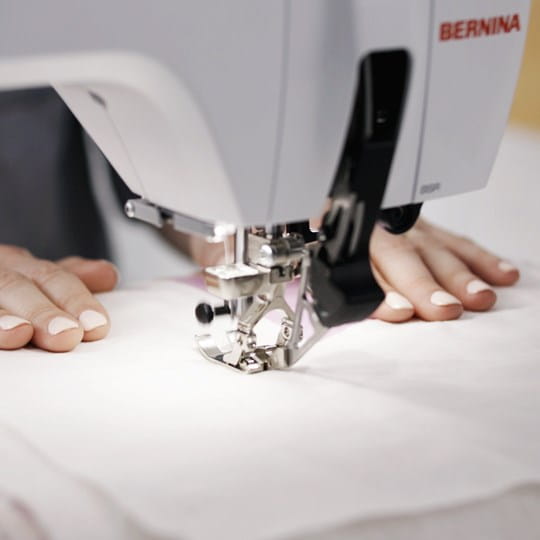 Sew chiffon & leather like a pro
Handle all kinds of material with ease
Superb fabric feed on top and bottom
Excellent for slippery or fine materials
The innovative BERNINA Dual Feed feeds the fabric evenly from above and below. It is easy to engage and tucks away when not in use.
Features & Functions
| | |
| --- | --- |
| Sewing space to the right of the needle | 8.5" / 215 mm |
| BERNINA Dual Feed (BDF) | Yes |
| Lower thread indicator | Yes |
| Start/stop button (stitching without foot control) | Yes |
| Maximum stitch width | 9 |
| Embroidery Module | Yes |
| Pinpoint Placement | Yes |
| Group/Ungroup | Yes |
| Embroidery Consultant | Yes |
| Endless embroidery | Yes |
Limited Warranty - Click here

Product brochure – All information at a glance
DOWNLOAD NOW

Accessories Included:
Unleash your creativity with the included accessories.
Standard accessories BERNINA 590
BERNINA Stitch Regulator (BSR)
The BERNINA Stitch Regulator (BSR) adapts precisely to your current sewing speed to produce absolutely consistent stitching.
Reverse Pattern Foot #1C
Reverse Pattern Foot #1C is the ideal presser foot for sewing forward and reverse-feed utility and decorative stitches.
Reverse Pattern Foot #1D
Reverse Pattern Foot #1D is the ideal presser foot for sewing forward and reverse-feed utility and decorative stitches.
Overlock Foot #2A
Overlock Foot #2A lets you neaten seams easily and sew high-quality hems, waistbands and overlock seams on knit fabrics.
Buttonhole Foot with Slide #3A
Depending on the model, Buttonhole Foot with Slide #3A determines the desired buttonhole length for identical buttonholes either via a sensor or manually.
Zipper Foot #4D
Thanks to its narrow, centrally positioned toe, Zipper Foot #4D can stitch very close to the zipper coils, allowing it to sew the zipper on neatly.
Blindstitch Foot #5
Blindstitch Foot #5 is designed for sewing blind hems on all fabric thicknesses for a barely-visible finish.
Open Embroidery Foot #20C
Open Embroidery Foot #20C is ideal for embroidering with your sewing machine. The indentation in the sole of the presser foot allows it to glide smoothly over dense stitches.
Freearm Slide-on Table
The BERNINA Freearm Slide-on Table offers greater comfort thanks to an increased sewing area, without affecting free-arm function when sewing.
Knee lifter/Free-Hand System (FHS)
The Knee lifter/Free-Hand System (FHS) lets you raise the presser foot and lower the feed dog with your knee. Recommended particularly for appliqué or any project requiring pivoting and getting bulky projects under the presser foot easily.
Touchscreen Pen
The Touchscreen Pen – ideal for working on the touch screens on BERNINA sewing and embroidery computers. Operate the touch screen by gently tapping it.
Sewing Machine Oil
Regular care ensures that your Sewing Machine runs smoothly. This also includes oiling.
BERNINA Accessory Box
The practical Accessory Box can be used to store all Sewing Accessories, such as Presser Feet, Needles and Bobbins. The Accessory Box is supplied without contents.
Embroidery Module M
Square-shaped and practical:
Embroidery Module M offers an embroidery area which is up to 16.5 cm wide. Perfect for creating breathtaking embroidery projects and free-arm embroidery.
Medium Embroidery Hoop
The Medium Embroidery Hoop is a useful tool for the accurate embroidering of medium-sized projects with the BERNINA embroidery machine.
Large Oval Embroidery Hoop
The Large Oval Embroidery Hoop is suitable for both design combinations and extensive embroidery designs. The template makes quick work of accurately positioning the project in the hoop.